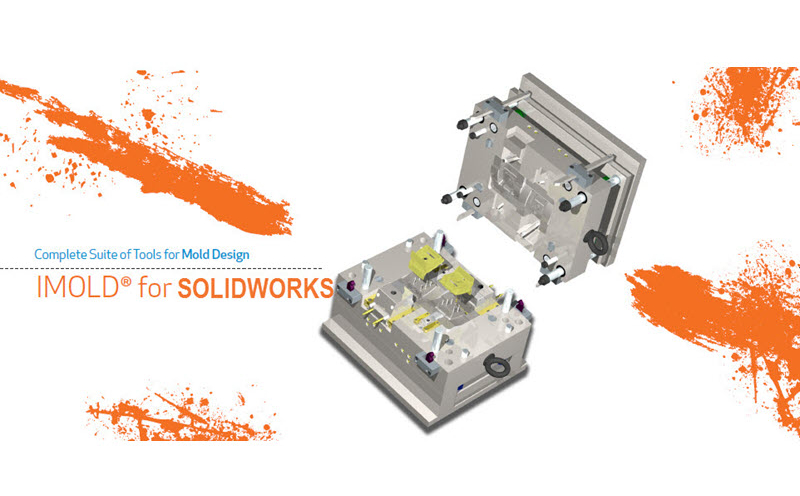 (*) Contact us for the best price
IMOLD for SolidWorks leverages breakthrough technology and the SolidWorks environment to provide designers with the most powerful mold design product available today. With IMOLD for SolidWorks, mold designers can easily produce preliminary and production design with staggering speed and preview functionality assures you get it right the first time.
IMOLD for SolidWorks leverages breakthrough technology and the SolidWorks environment to provide designers with the most powerful mold design product available today. With IMOLD for SolidWorks, mold designers can easily produce preliminary and production design with staggering speed and preview functionality assures you get it right the first time. With automatic and interactive tools for features like automatic parting line generation, core/ cavity surface splitting, and side core development, IMOLD for SolidWorks offers a level of functionality not realized by other mold design systems.
Whether you use standard or custom design components, IMOLD for SolidWorks enables designers to define new and custom components and incorporate them as company standards. Intelligent menus make IMOLD for SolidWorks very easy to use and will assure a rapid return on investment with the lowest possible training costs.
IMOLD for SolidWorks radically shortens mold design time. Extensive tools for mold designers enables them to easily automate the most difficult and tedious tasks. Jobs that took several days can now be done in a few, short hours.
With a decade of experience in Computer-Aided Mold Design, IMOLD for SOLIDWORKS stands out today as a leading software that delivers optimal solutions to the growing and complex needs of mold designers worldwide. Quite rightly, not many know mold designers as much as IMOLD does.
IMOLD for SOLIDWORKS is a powerful, completely SOLIDWORKS integrated CAMD tool for streamlining and automating the mold design process. Leveraging SOLIDWORKS, it captures the process specific knowledge of mold engineering to provide designers with expert, highly efficient design tools and step by step guide for the complete mold design process. IMOLD delivers high level of productivity as mold designers can easily produce preliminary and production design at radically short time. Besides greatly shortening the lead time for design, IMOLD also offers unparalleled integration to existing manufacturing systems to dramatically reduce the mold delivery schedule.
IMOLD is now significantly enhanced to best meet the industry's requirements of today and beyond! IMOLD provides mold design professionals with the critical design and productivity edge by combining its legendary powerful mold design suite with new functionalities and all round enhancements to provide greater automation, intuitiveness and enhanced user experience. What's more, the optimised system resource management in IMOLD now allows professional designers to work on large mold assemblies without being hampered by slow system processes. IMOLD sets apart from its competition in its ability to truly help designers in their quest to achieve highest level of productivity while meeting the strictest quality mold design standards.
Complete Mold Design Solution:
The IMOLD Advantage:
Part Preparation
Mold Design Project Management
Core/Cavity/Sidecore splitting
Mold Layout
Feed System - Runners + Gatings
Moldbase Assembly Design
Slider + Lifter Assembly Design
Ejector System Layout Design
Cooling Channel Design
Standard Components Library Assembly
Drawings
Electrode Design + Manufacturing
The IMOLD Advantage
SOLIDWORKS Certified Gold Product
IMOLD handles thousands of assembly parts with optimum performance
Provides intuitive + effortless design process
Advanced + applicative product splitting
Powerful + complete electrode design
Project Control
Project Control provides the menus to manage mold designs. By providing options to input unique part names, specify pertinent customer information and establish part file working directories, IMOLD for SolidWorks provides the options necessary to define and control any mold design project. Part shrinkage for different types of plastic material is also supported.
Core/Cavity Builder
From simple planar parting lines to complex free-form parting lines, the Core & Cavity Builder will work with solid models or surface models to develop parting surfaces, while providing tools to patch and delete holes.
Ejector Designer
The Ejector Design module enables designers to easily add ejector pins to the mold assembly.
This module provides automatic pocketing (for wire-cut and clearance holes), trimming to core surfaces and interference checking with mold components.
Data Preparation
IMOLD for SolidWorks provides an extensive set of data preparation tool to prepare the product model for the mold design. With just a few clicks of the mouse, designers can analyze part moldability, check draft angles, identify part problems, and rotate/translate the part into the mold position.
Layout and Feed System Design IMOLD for SolidWorks performs automatic layout for multiple cavity molds with support for balanced and unbalanced layouts.
For maximum flexibility, individual cavities or impressions can be rotated. The Layout and Feed System Design module even provides for a library of commonly used runner and gate types.
Cooling Channel Design
The intuitive user interface of the Cooling Channel Design module enables the creation of fully associative cooling channels.
This module aids the designer in the creation of simple or complex cooling channels while considering actual manufacturing requirements.
The Cooling Channel Design module also allows for interference checking with other mold components and easy placements of cooling accessories like connectors, plugs, etc.
I-Screws
Use the Intelligent Screw System to fasten two or more parts together. Unlike standard CAD systems, designers no longer need to define counter bores, threads and other related parameters before placing screws.
Simply place the screws and all the required pockets and holes are developed automatically - with full associativity!
Mold base design
While allowing for easy customization for one-off use or company standards, IMOLD for SolidWorks creates 3D, solid-based, parametric mold bases from vendor standards.
IMOLD for SolidWorks supports standard mold bases or customized, non-standard mold bases and provides standard components like support pillars, sprue bushing, 2-plate or 3-plate mold bases and more.
Automatic pocketing for screws, pins and bushing, etc. are provided along with lightweight mold assemblies that allow designers to work quickly through designs and implements changes.
Lifter Design
The user-friendly Lifter Design module does everything but select your design requirements.
Designers can use this module to select commercially available lifter systems like Uni-Lifters or to add their own custom designs to the lifter library.
Components Gallery
Use the Component Gallery to effortlessly insert standard
components into the mold. Any pockets required to facilitate the component are also automatically inserted into the mold assembly.
By using the Intelligent Catalogue Menu System, designers can select design parameters and be presented only with those parts or components that meet the design criteria.
Slider Design
The Slider Design module supports commercially available slide systems, as well as custom designed slides
EDM – Electrode Design
Automated module for designing and managing electrodes and their holders to assist the manufacturing of detailed and hard to machine features on mold and press tools.
IMOLD EDM makes it easy to design 3D solid electrodes from flexible surface extensions. The software offers an easy to follow, step-by-step process and addresses all of the common types of electrodes to the most complex ones.
Drawings
Automatic Assembly Drawing Creation from 3D Model Assembly.
With only a few mouse clicks, IMOLD will automatically generate Core Half and Cavity Half Drawings of the mold assembly.
IMOLD also provides a very intuitive tool to define the Cross-sectional cutting planes and will automatically generate the Sectional Views of the mold assembly.